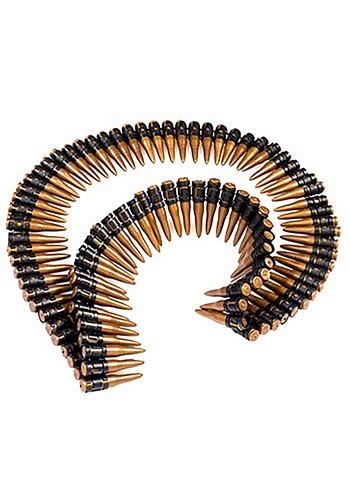 This product has restrictions that limit the countries that we can ship to. This product cannot be shipped to Australia, Austria, Belgium, Bulgaria, Croatia, Cyprus, Czech Republic, Denmark, Estonia, Finland, France, Germany, Greece, Hungary, Ireland, Italy, Latvia, Lithuania, Luxembourg, Malta, Netherlands, Poland, Portugal, Romania, Singapore, Slovak Republic, Slovenia, Spain, Sweden or United Kingdom.
Product Description
You'll never run out of ammo while you're wearing this Molded Bullet Belt. Life on the battlefield ain't no picnic! Who has time to stop and think about where all those extra bullets went? Keep them attached to your person at all times! That's an order soldier!
Molded belt

60'' long

gold bullets w/ black caps
There are no reviews for this item yet. Be the first to write a review!
---