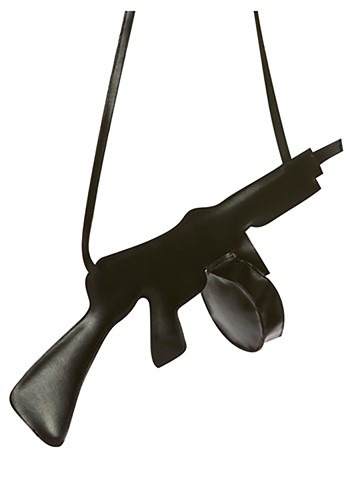 This product has restrictions that limit the countries that we can ship to. This product cannot be shipped to Australia, Austria, Belgium, Bulgaria, Croatia, Cyprus, Czech Republic, Denmark, Estonia, Finland, France, Germany, Greece, Hungary, Ireland, Italy, Latvia, Lithuania, Luxembourg, Malta, Netherlands, Poland, Portugal, Romania, Slovak Republic, Slovenia, Spain, Sweden or United Kingdom.
Recommended Costumes
Product Description
Arrive at your next party armed and dangerous with this Tommy Gun Purse. The circular "drum magazine" is the zippered compartment for your ID, keys & cash. Make them say hello and goodbye to your little friend!
Black faux leather 20" long "gun" has bendable metal spine inside

Zipper compartment measures 4" diameter & 2" thick

50" shoulder strap
There are no reviews for this item yet. Be the first to write a review!
---